Misen | Chef's Knife
Have you felt overwhelmed looking for a quality kitchen knife?
Yeah, us too.
There's heaps of incomprehensible jargon out there about everything knife-related: construction, blade shape, steel type, to name a few.
Most of this is clever marketing from companies who want to sell you on knives with bells and whistles that don't affect performance much.
We want to cut out the confusion and make it easier for you to find a great knife that you'll love and use for years to come.
A different way (to stock your kitchen)
We're here to fundamentally change the way people stock their kitchen with quality, high-end tools..
You shouldn't have to try and figure out what useless marketing jargon means. It should be a transparent and easy process--so you end up with a knife you love that'll last a lifetime.
No useless extra features to trick you. No cheap substitutes. Just a great knife made for people who don't know everything about knives.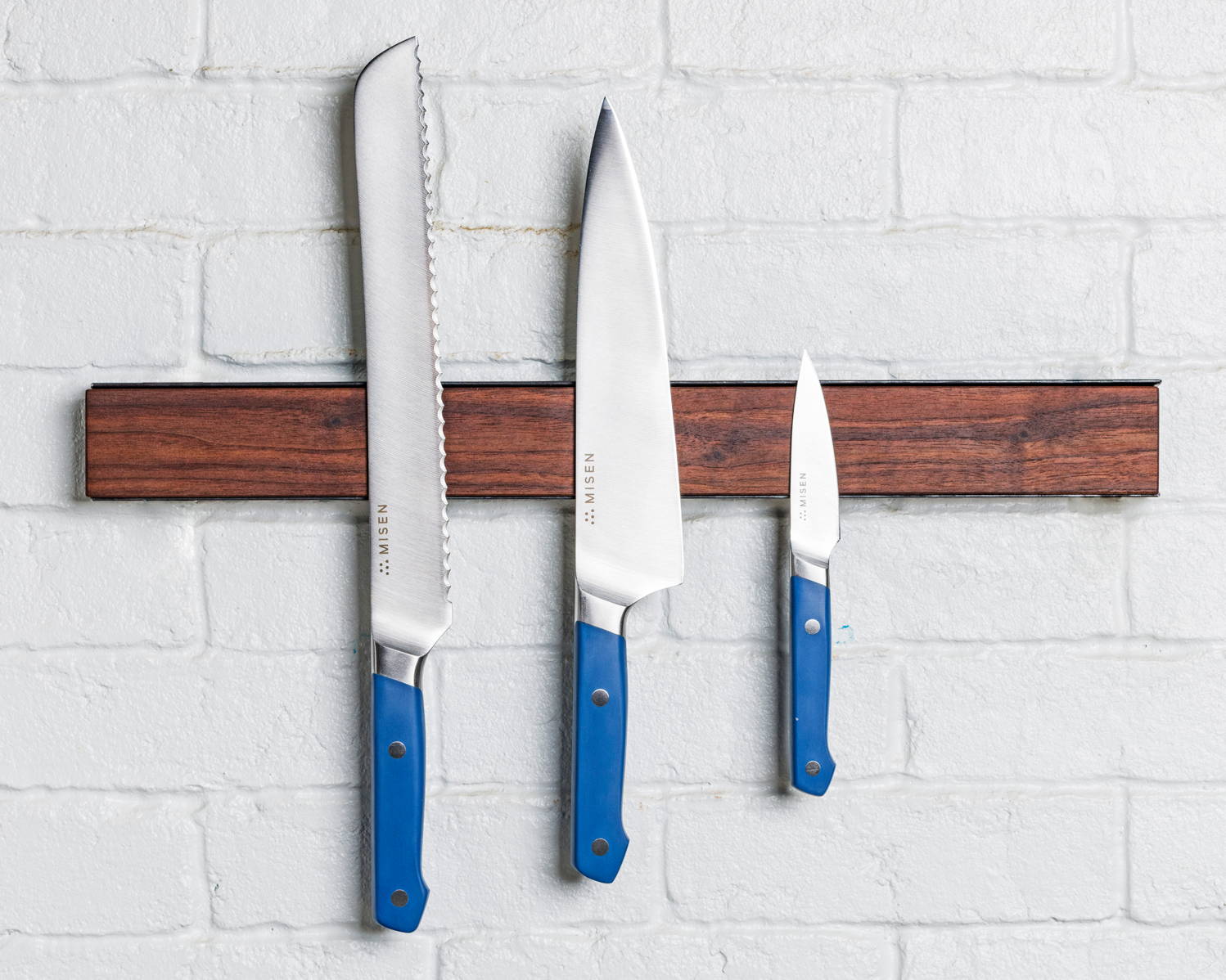 It's okay if you're not a knife expert, cutlery aficionado, or cooking tool geek.
When you get right down to it, there are only three things that will truly matter in the long run:
Comfort, Sharpness, and Materials.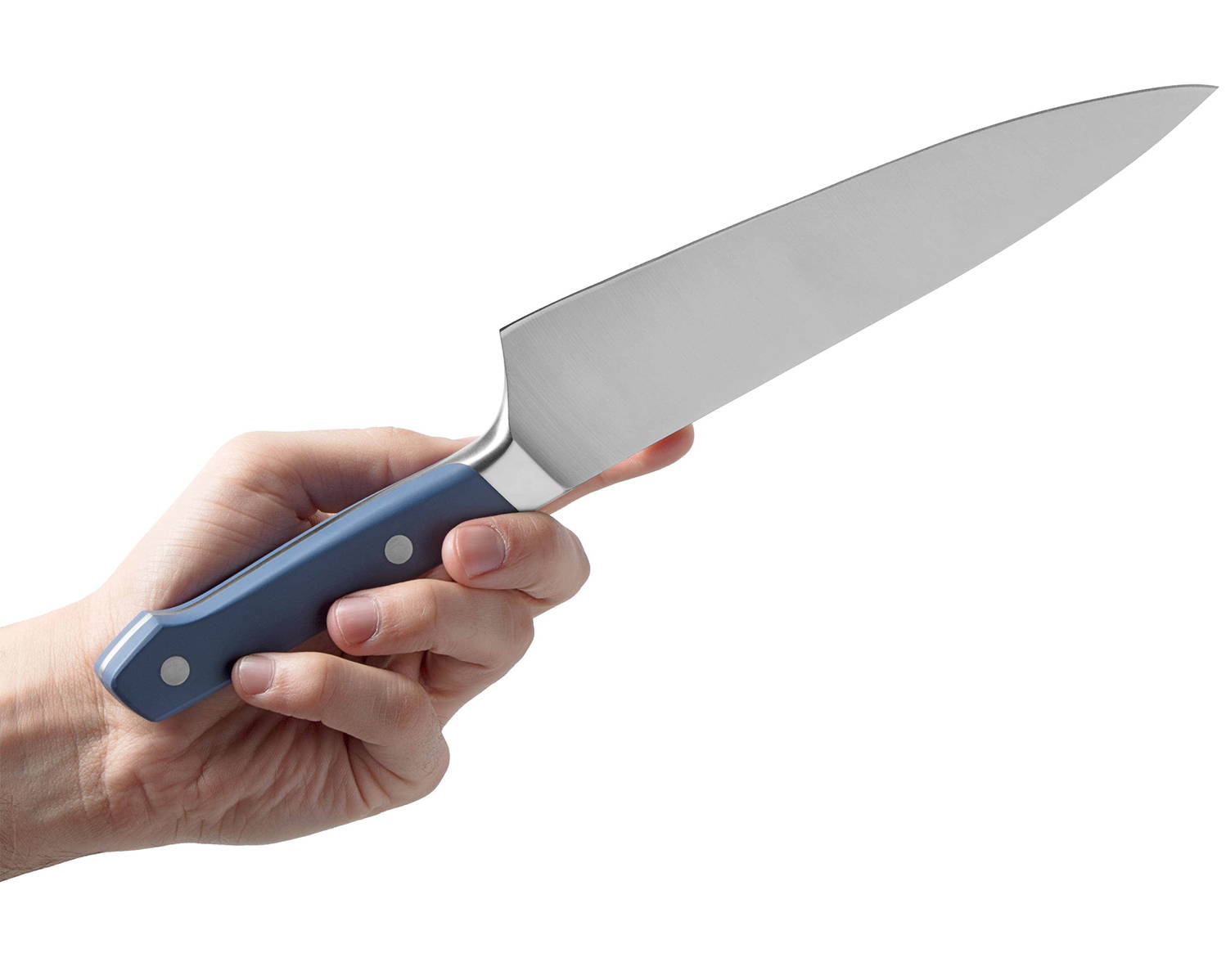 You'll hear a lot about 'balance' and 'ergonomic handles,' but what they're actually talking about here is the cook's comfort.
Is the knife comfortable for you to hold? Does the handle feel right to you?
A good kitchen knife is going to be in your hand a lot. So your comfort is most important here, no matter what weight distribution or ergonomic handle sculpting someone tells you are "best."
For our part, we designed the Misen Chef's Knife so that both a common handle grip and the chef-favorite "pinch grip" would be comfortable.
All you need is a sharp kitchen knife--so where are all these degree measurements coming from?
The secret: the numbers don't really matter.
Companies will talk about the angle on their blades -- which, if you really need to know, is the triangle-like point created by a sharp blade edge -- but every knife is going to be sharp out of the box.
What matters is finding a knife that will stay sharp for a long time. This is where the materials are key.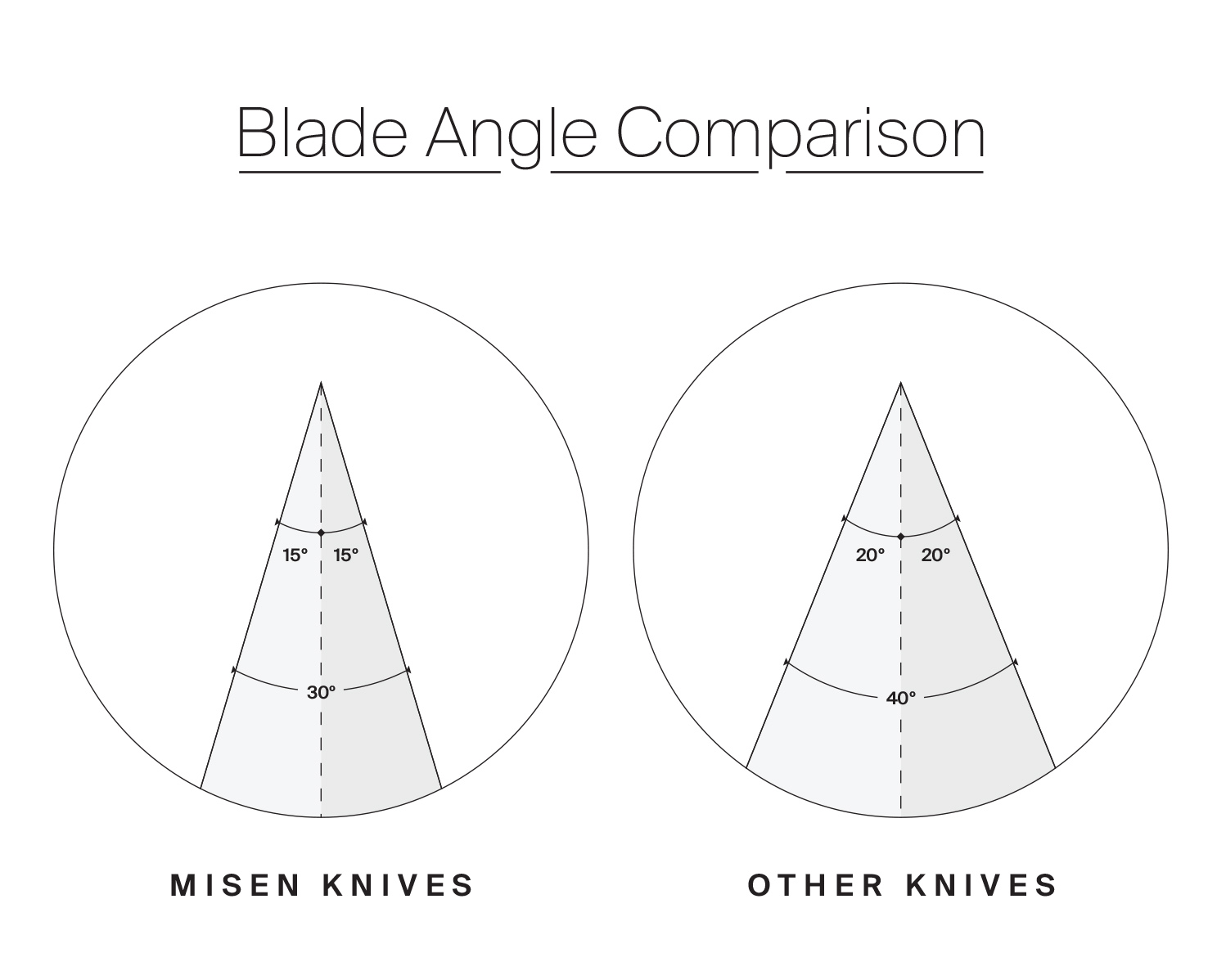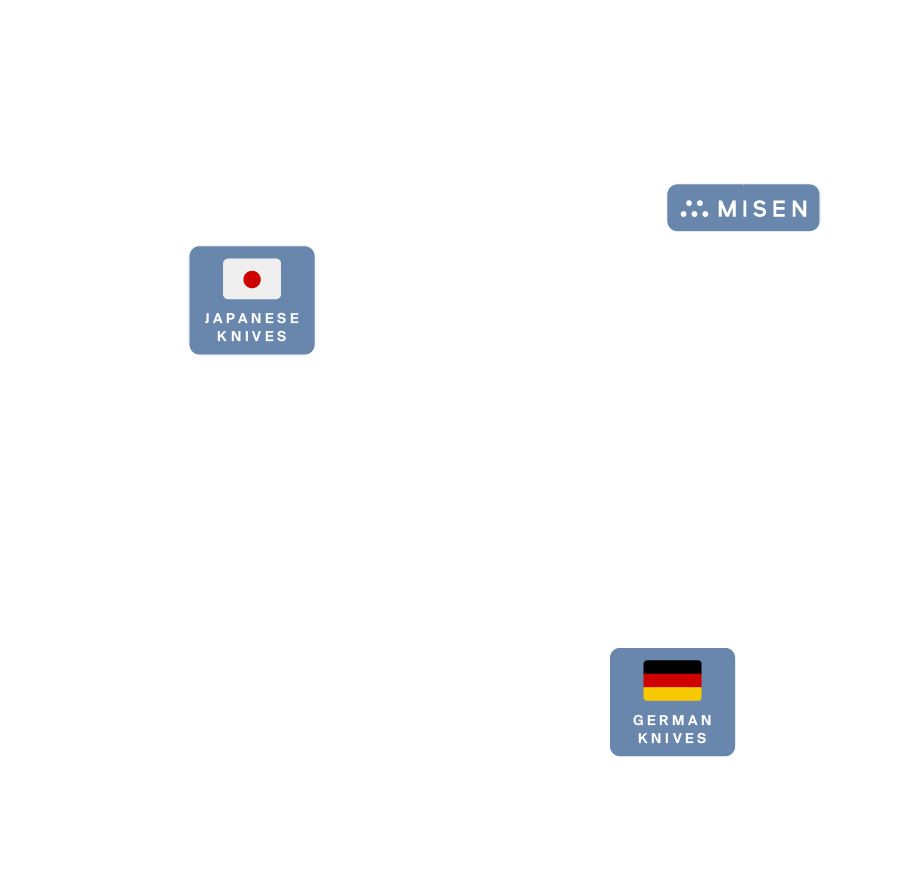 Not-so-mysterious Materials
So many companies throw out terms like "carbon steel" and "high-carbon stainless steel," and "precision forging," forgetting that not everyone knows what those mean.
Or that knowing a company's forging methods is meaningless without also knowing the steel they're using.
You really don't need to know a lot about steel types and "recipes." You just need to find a happy place between rust resistance (stainless steel) and the hardness that will keep a knife sharper for longer (carbon steel).
We decided to make Misen knives using AICHI AUS-8 steel, after testing it ourselves. Is it the "best" steel out there? Nope.
But it will stay sharp, won't rust, and lets us offer the Chef's Knife at an affordable price.
Between quality design, materials, and assembly, a "premium" knife can easily set you back $150. But it doesn't have to. We think $65 is fair.
By partnering closely with our factories and selling directly to you online, we're able to offer an incredible knife at a reasonable price.
Better materials, lower price. It's a simple maxim that we take seriously at Misen.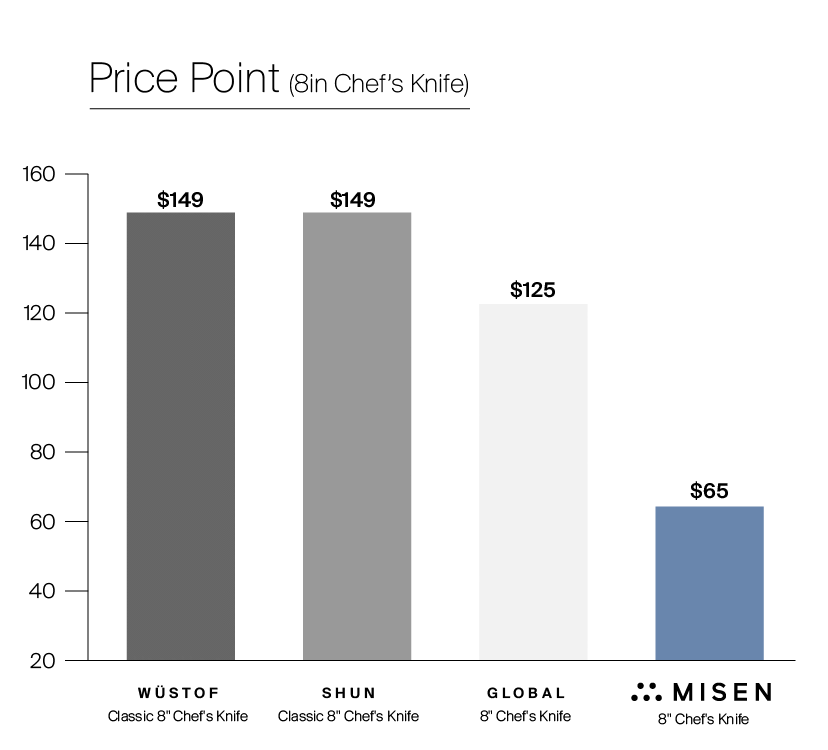 Misen: Ideal Knife, Unreal Price

Handcrafted Down to the Smallest Detail
We spent two years developing this knife because every little detail matters. And partly because we're a bit insane.
At every step along the way, our knife was hand tested and refined by professional chefs, avid home cooks, product designers, and people who've never even held a knife before. We painstakingly went through 37 different prototypes until we knew we had the perfect knife.
The final result? A knife that's a pleasure to hold, easy to maneuver, sharp enough to plow through even the toughest foods, and a blade that stays sharper longer.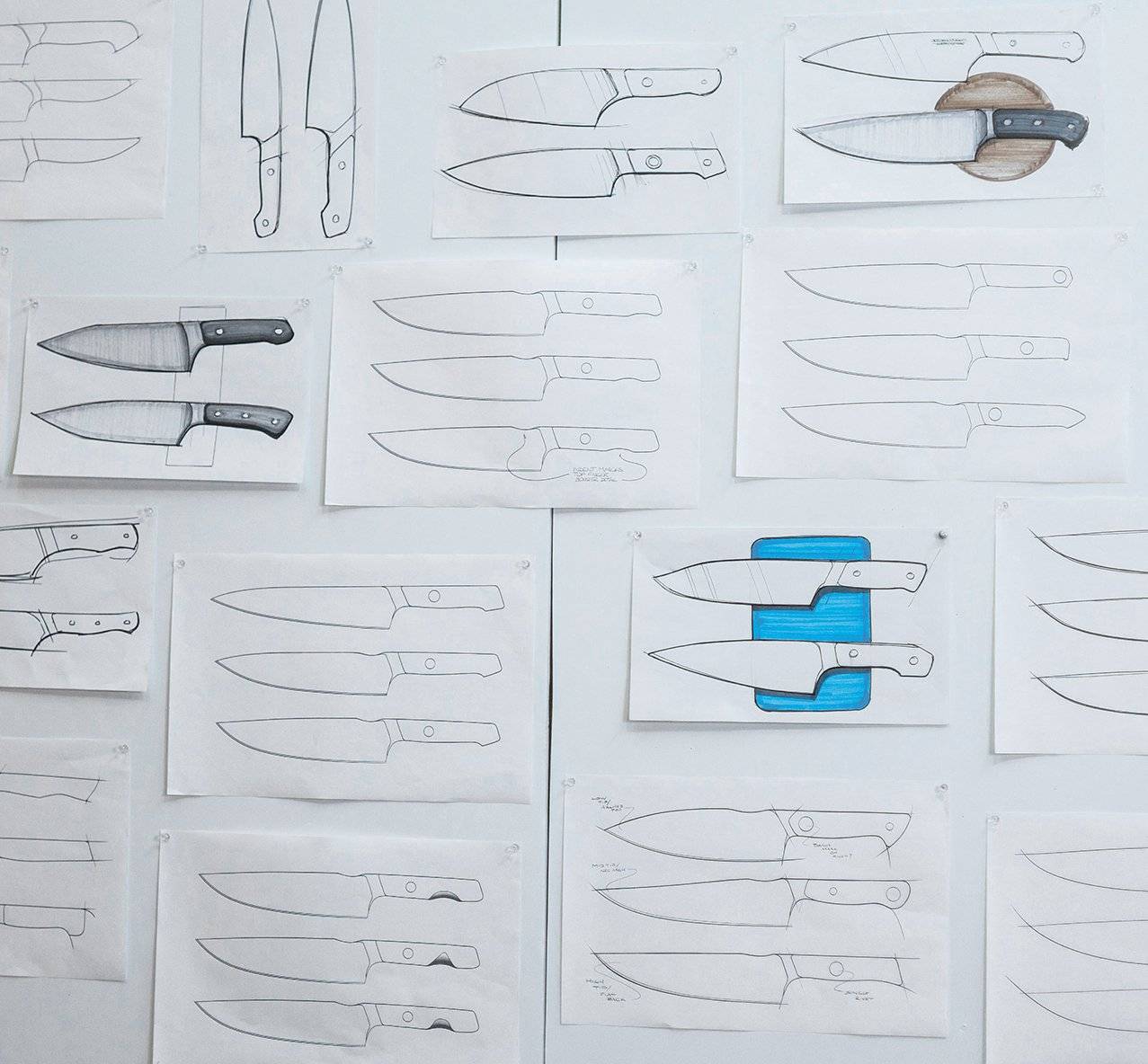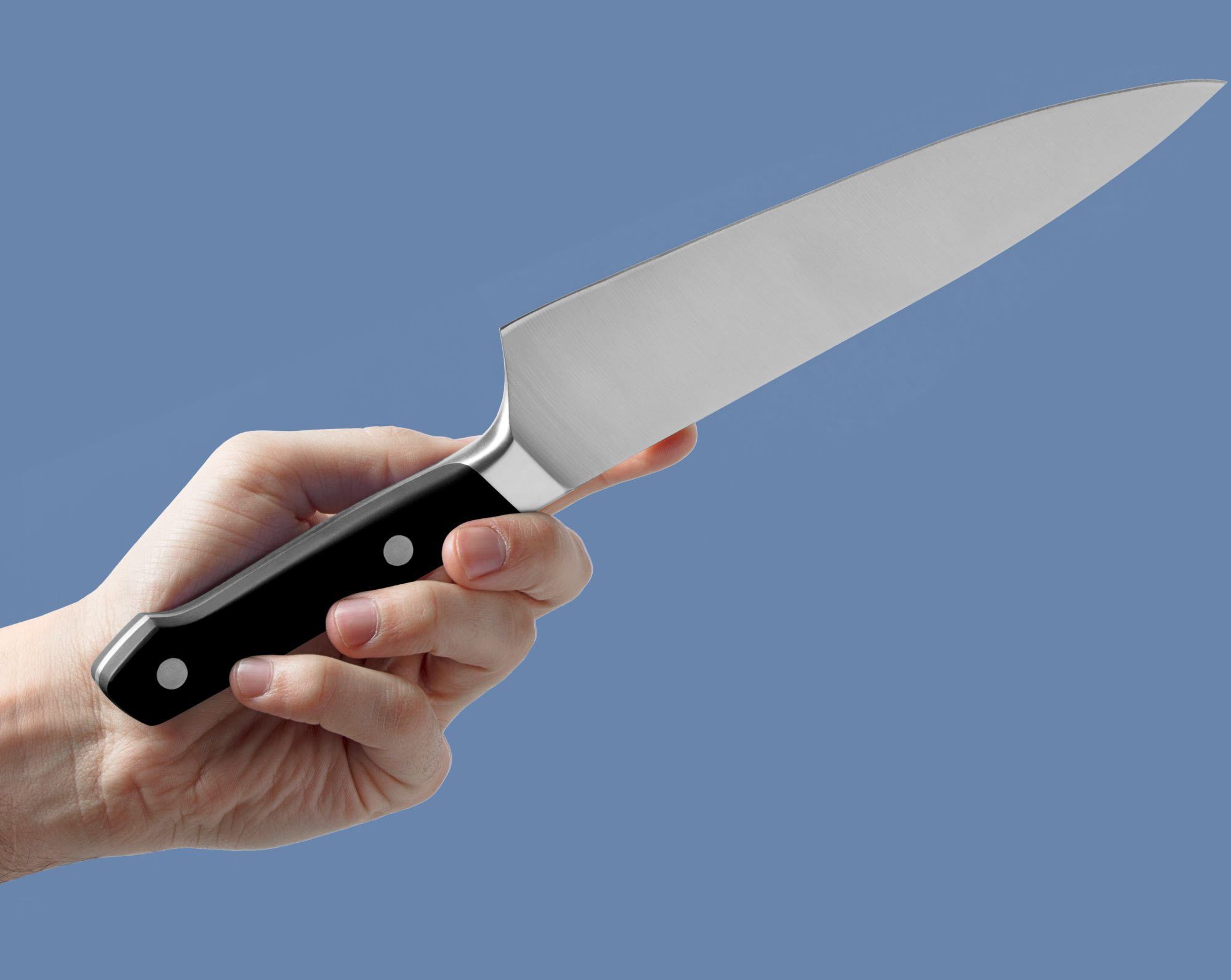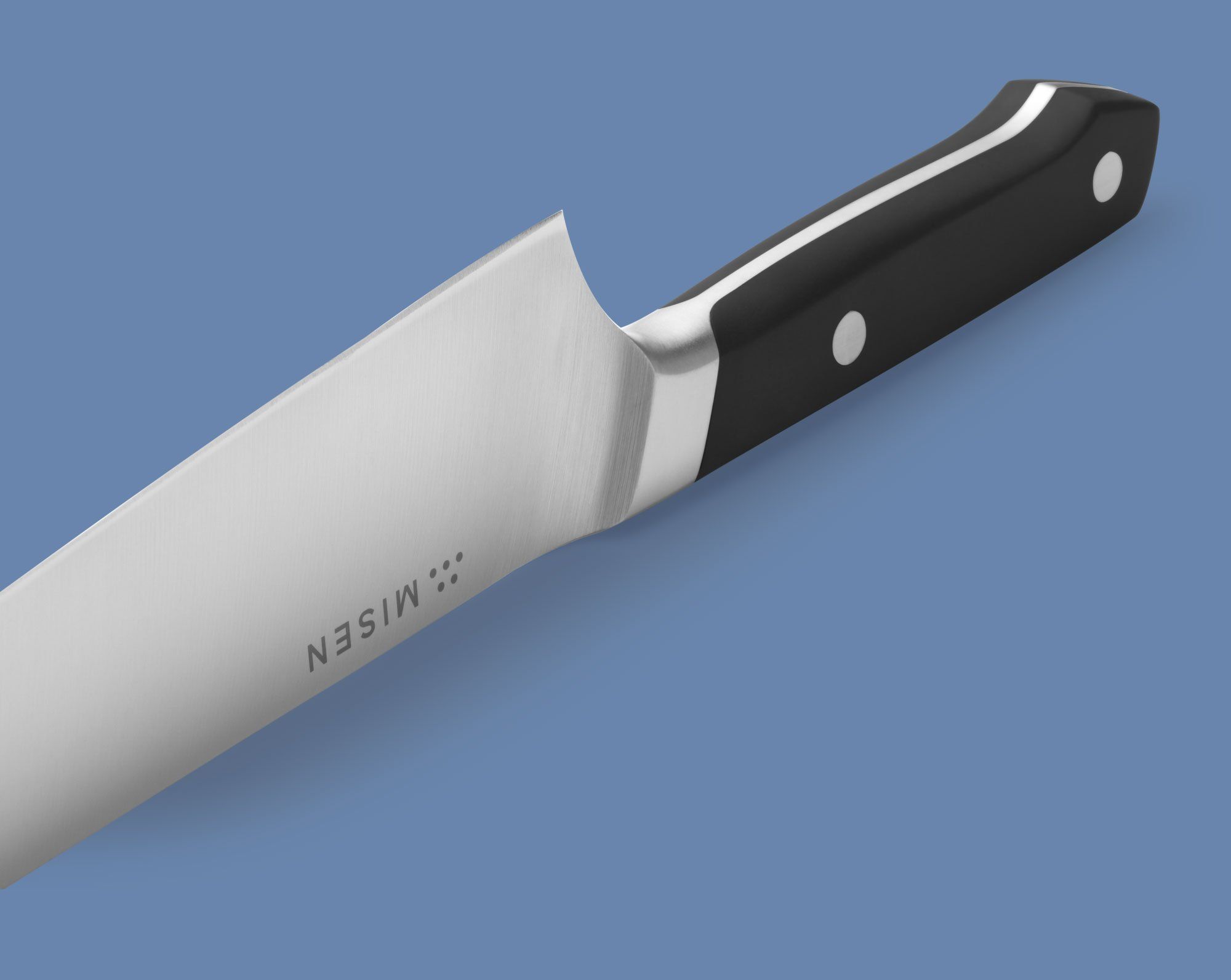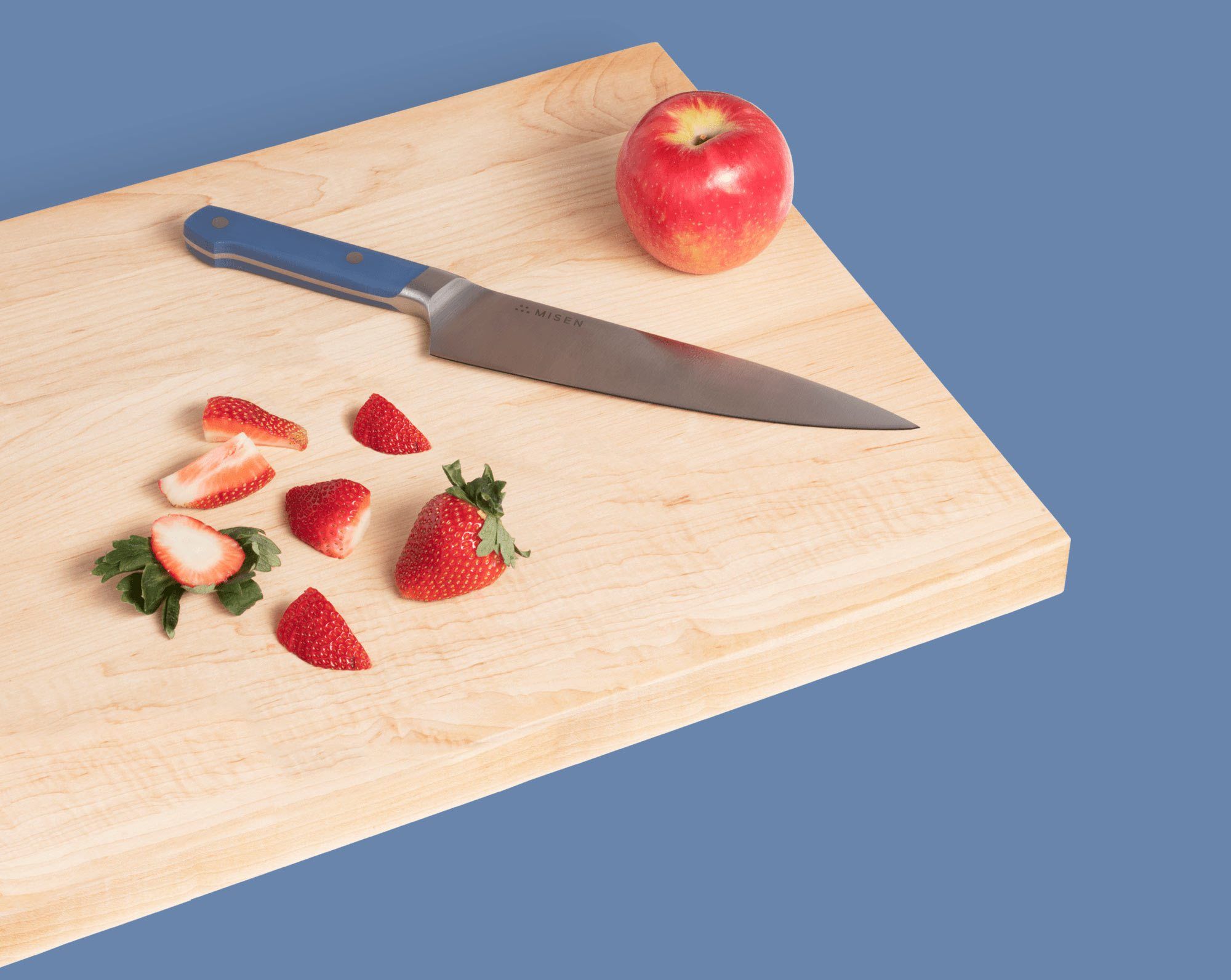 Misen Knives are made with AICHI AUS-8 steel, which does a stellar job of retaining a sharp edge and resisting rust.

We designed the knife's handle to slope gently into the blade, so that anyone can find a comfortable grip, whether they're "pinching" the blade base or keeping to the handle.

We know it's not the angle, but the edge retention, that matters. Even so, we opted for a narrower 15º angle for an extra-sharp cutting experience.
Misen knives are made with AICHI steel, offering a great balance of sharp edge retention and durability, with 60% more carbon content than other "premium" knives.

Our knives incorporates a sloped bolster that travels gradually onto the blade face and encourages a proper "pinch grip" for better comfort and control.

While most Western-style knives have edge angles of 25 degrees, we use more acute 15 degree angles for a noticeably sharper cutting face.

We're not the only ones who think so...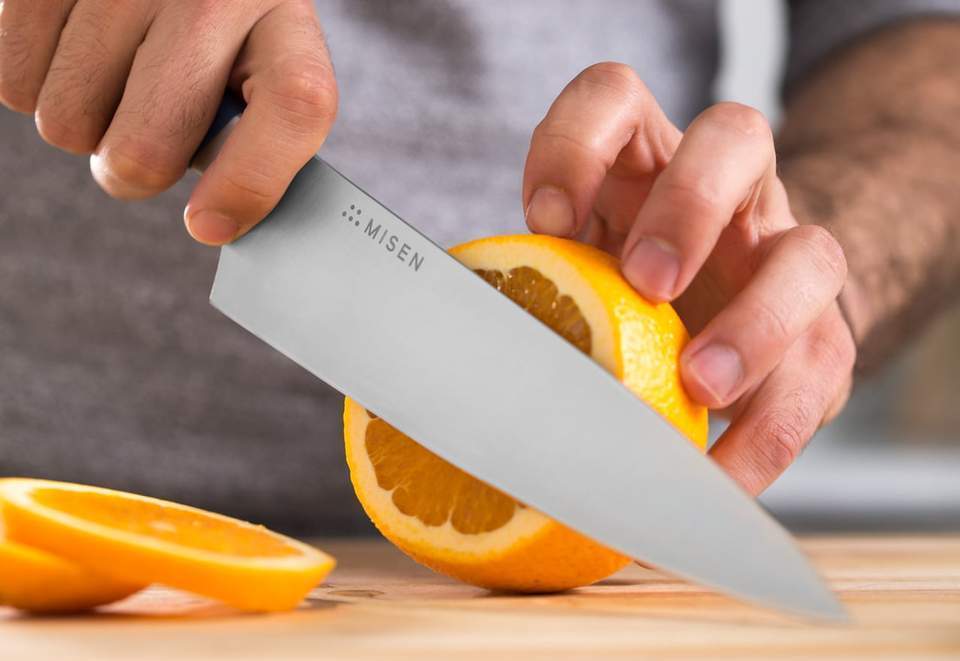 We're confident this is the best knife you'll ever own for a price that'll make you feel savvy as hell. But we understand you may be skeptical. So give it a try. Worry-free.
LIFE TIME GUARANTEE
If anything ever happens to your knife, we'll replace it for the rest of your life.
60-DAY TEST DRIVE
Try it out. Cut everything you can. If you're still not happy, just send it back.
Limited Time Offer - Save 20%
People Can't Keep Their Hands Off These Knives
The first 500 to Order before Mar 9 receive 20% Off
CODE: TRYMISEN20
Only 19 Knives Left!