Large Knife Sets Are a Scam

You already know having a good knife will not only make your life easier in the kitchen, but will also make cooking more fun.
Trouble is, when you start shopping for good knives you quickly find huge sets containing ten, fifteen, or even twenty knives — when 99% of us will never use more than a few.
So we asked: why do these big sets exist?
The answer: to get you to spend more money on inferior knives. You may get more, but the reality is you don't NEED more knives.
You just need better ones.
Our Essentials Knife Set is a reflection of our belief that everyone should have access to premium kitchen tools at honest prices. Only the knives you need, for a fraction of the cost.
The Three Knives Every Chef Uses
If you ask any professional chef what knives are the most important, they'll all say the same three.
That's because they know that with only three essential knives, you can literally cook any meal in the kitchen.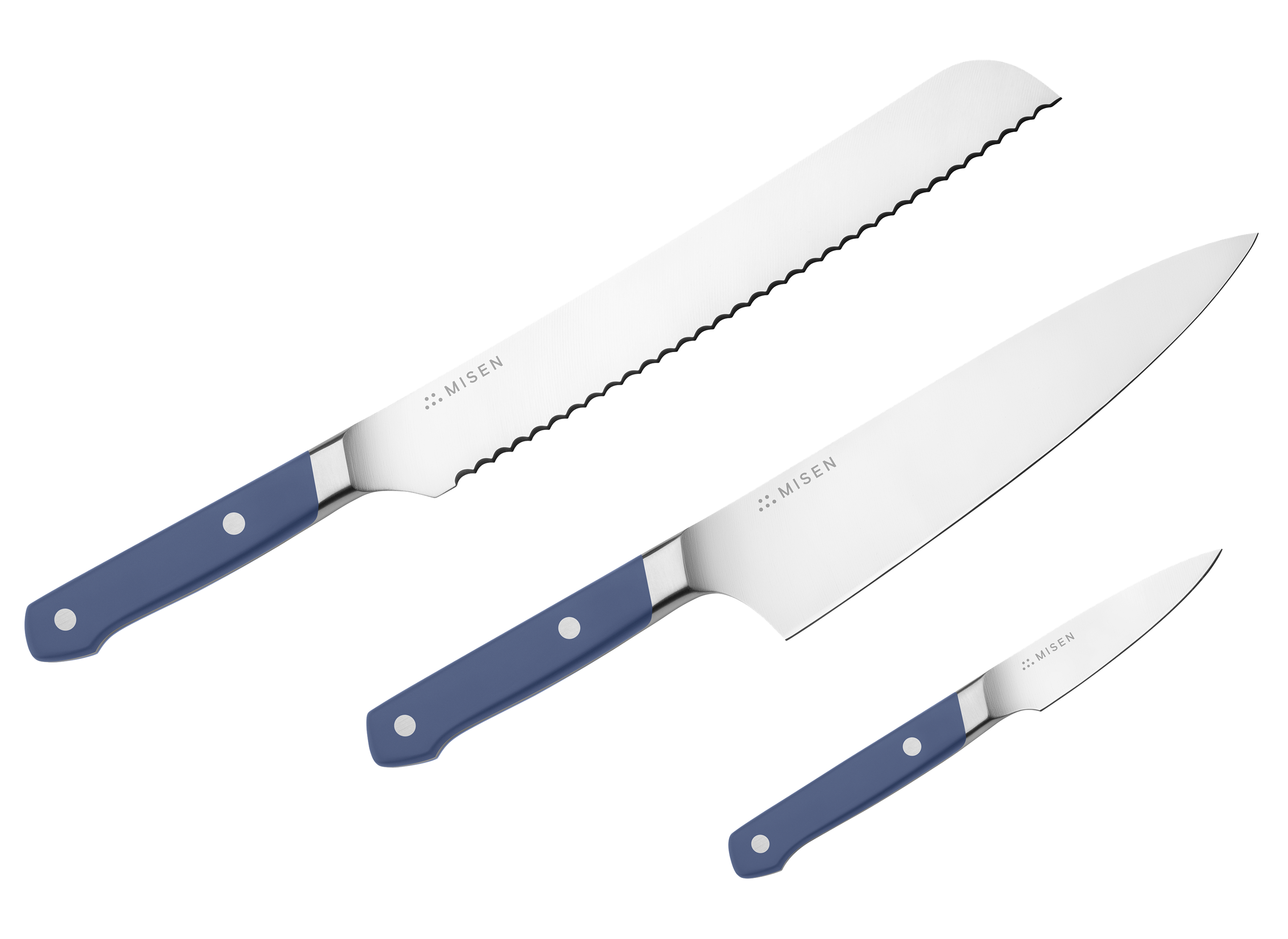 A.K.A. The Bread Knife
Cuts through delicate bread and produce, and can saw through tougher foods.
Your go-to everyday knife.
Perfect for chopping, dicing, and slicing anything you put in front of it.
Your "air" knife for prep work done away from your cutting board.
Perfect for peeling and coring fruits and vegetables.
Misen Essentials Knife Set

$155
$130
By focusing on quality materials and modern craftsmanship while cutting out traditional middlemen, we can offer this trio of premium knives for 60% less than some more expensive brands.
We packaged the three essential knives you'll actually use together.
Save money when you buy all three.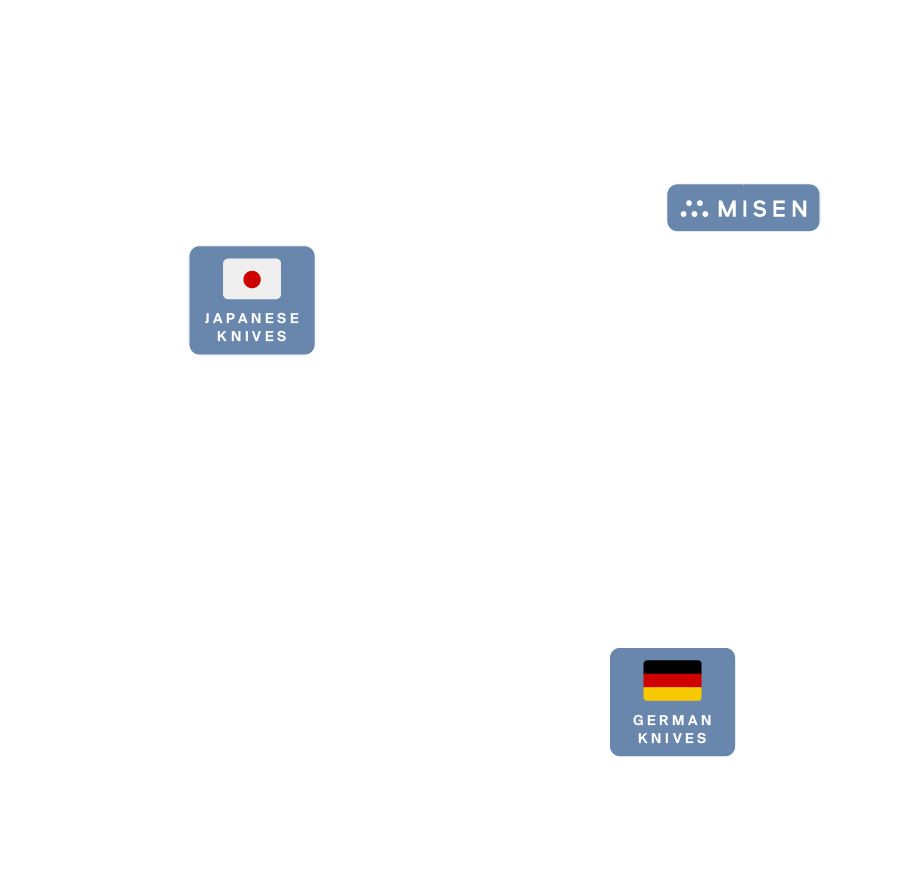 What Makes the Misen Knives Great?
A great knife should feel good in your hand, stay sharp, and hold up over time to the rigors of your kitchen. Simple, right? But behind these deceptively simple concepts are centuries of tradition, technology, design, and craft.
The knife world is split into two major players: German steel, known for its toughness and durability; and Japanese steel, known for its razor-sharp edge. Rather than pick a side, we opted to cherry pick the best qualities from each to create the ultimate hybrid.
The end result? A knife that stays incredibly sharp, but will also remain durable over the long haul.

Choosing the right steel is a delicate balancing act: too much hardness creates a brittle knife, while too little means a blade will dull fast. With significantly more carbon content than steel used by some competitors, Misen knives' AICHI steel is the perfect sweet spot that'll keep your knife strong and sharp over time.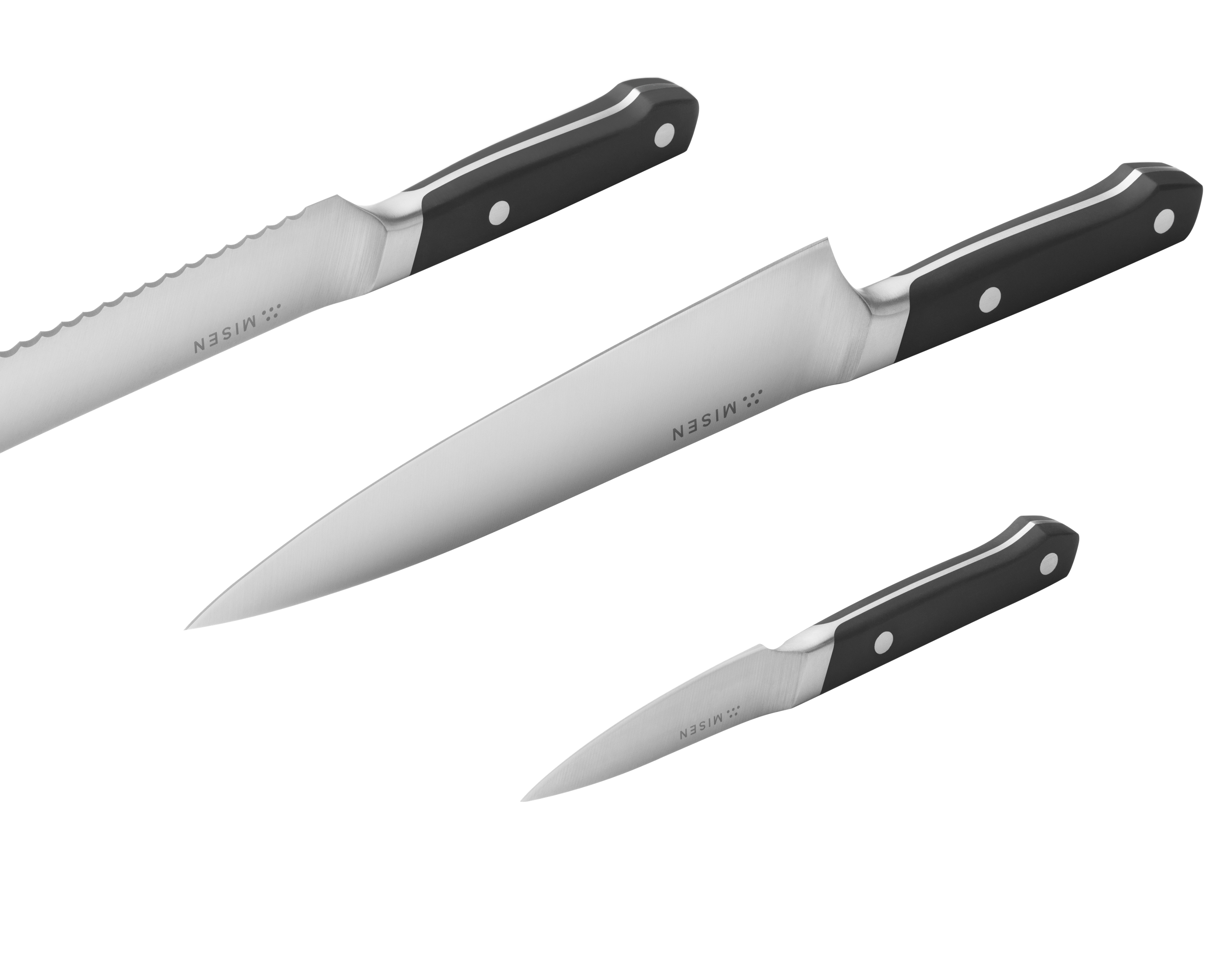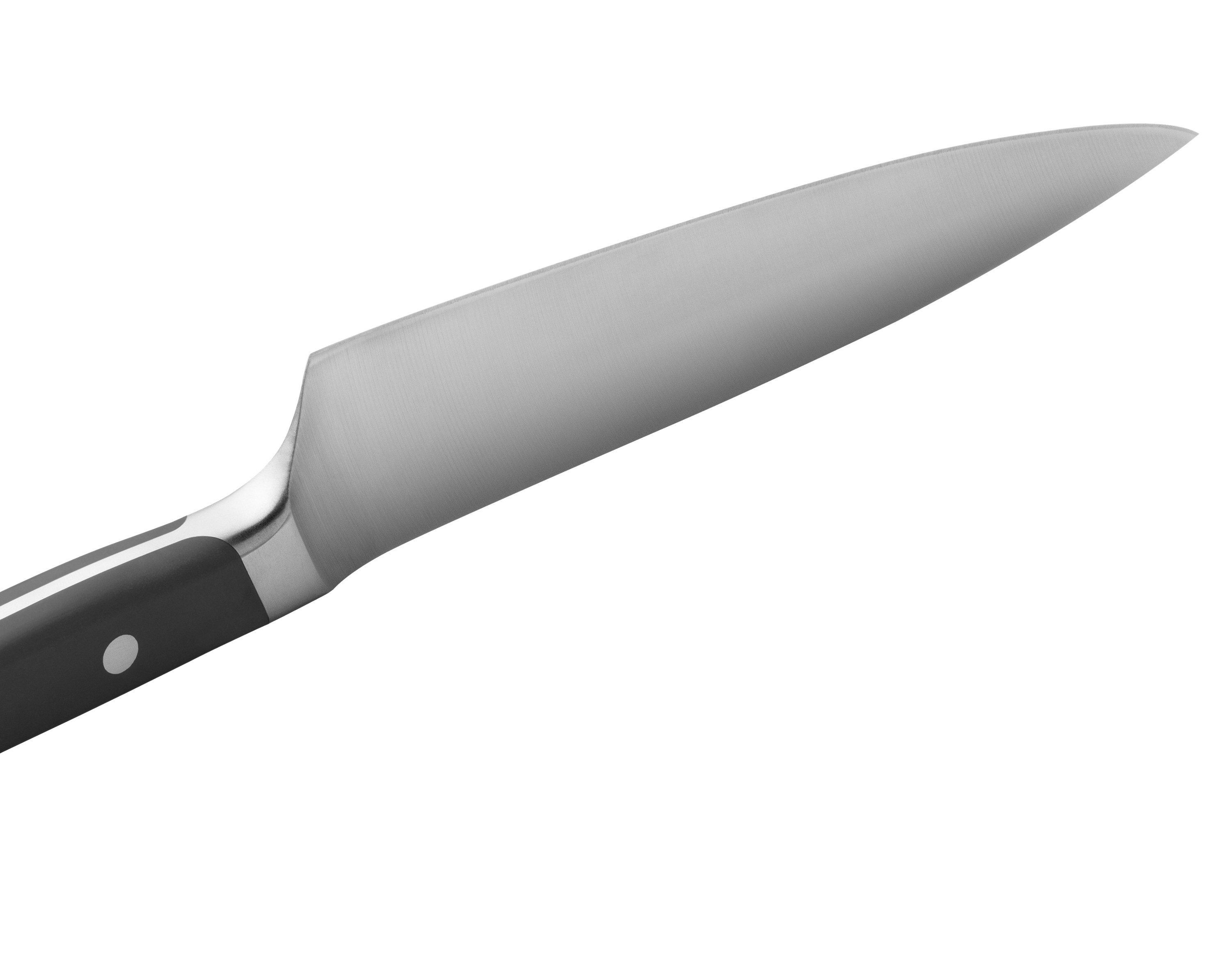 Misen knives are made with AICHI steel, offering a great balance of sharp edge retention and durability, with significantly more carbon content than some other "premium" knives.

Our unique sloped bolster pulls double duty: the sloped shape encourages a proper "pinch grip" for comfort and control, while the bolster's placement creates better access to the full length of the blade.

While most Western-style knives have edge angles of 25 degrees, we use more acute 15 degree angles for a noticeably sharper cutting face.
Misen knives are made with AICHI steel, offering a great balance of sharp edge retention and durability, with 60% more carbon content than other "premium" knives.

Our knives incorporates a sloped bolster that travels gradually onto the blade face and encourages a proper "pinch grip" for better comfort and control.

While most Western-style knives have edge angles of 25 degrees, we use more acute 15 degree angles for a noticeably sharper cutting face.
Smart Design, Better Knives
We spent four years developing our knives, because every little detail matters. And partly because we're a bit insane.
At every step along the way, our knives were hand-tested and refined by professional chefs, avid home cooks, product designers, and people who've never even held a knife before. We painstakingly went through multiple prototype rounds until we knew we had the perfect knives.
The final result? Knives that are a pleasure to hold, easy to maneuver, sharp enough to plow through even the toughest foods, and blades that stay sharper longer.
We Could Charge A Lot For This Set, But We'd Prefer Not To.

We could easily charge $300 for this knife set. But $130 is fair. Most "premium" knife companies jack up the price simply because they can. We hate that.
By partnering closely with our factories and selling directly to you online, we're able to offer an incredible knife set at wholesale pricing. Better materials, lower price. It's a simple maxim that we take seriously at Misen.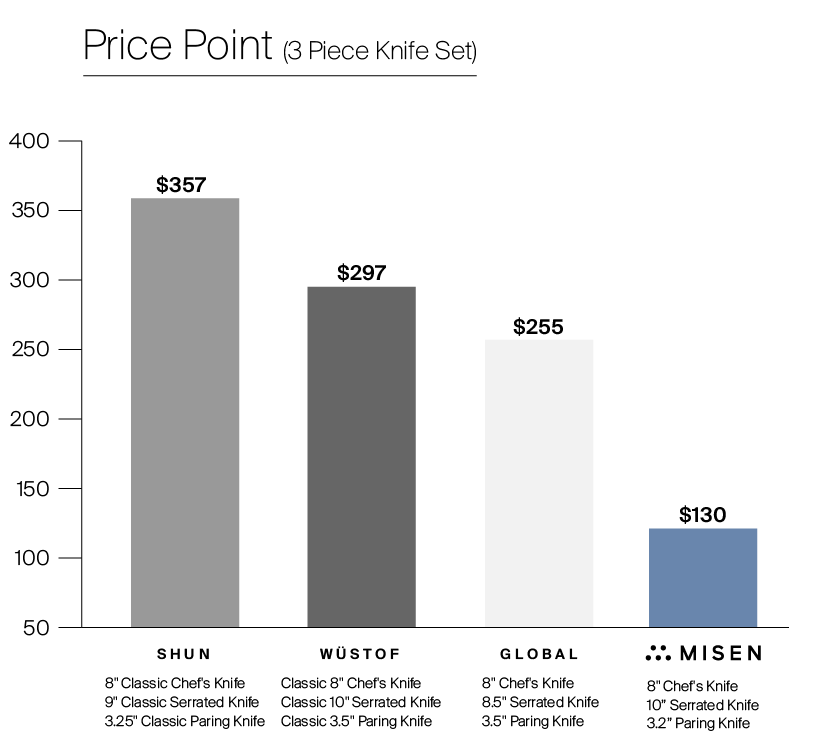 Aren't high-end knives hard to care for?

Some are, but not Misen's. Our hybrid design and premium AICHI Japanese steel is known for its durability and ability to hold a sharp edge. That means less maintenance for you.
Don't Take Our Word For It

1.1 Million Dollars Raised

Serious Eats Called Misen:
"The Holy Grail of knives"
Over 3,500 5-Star Reviews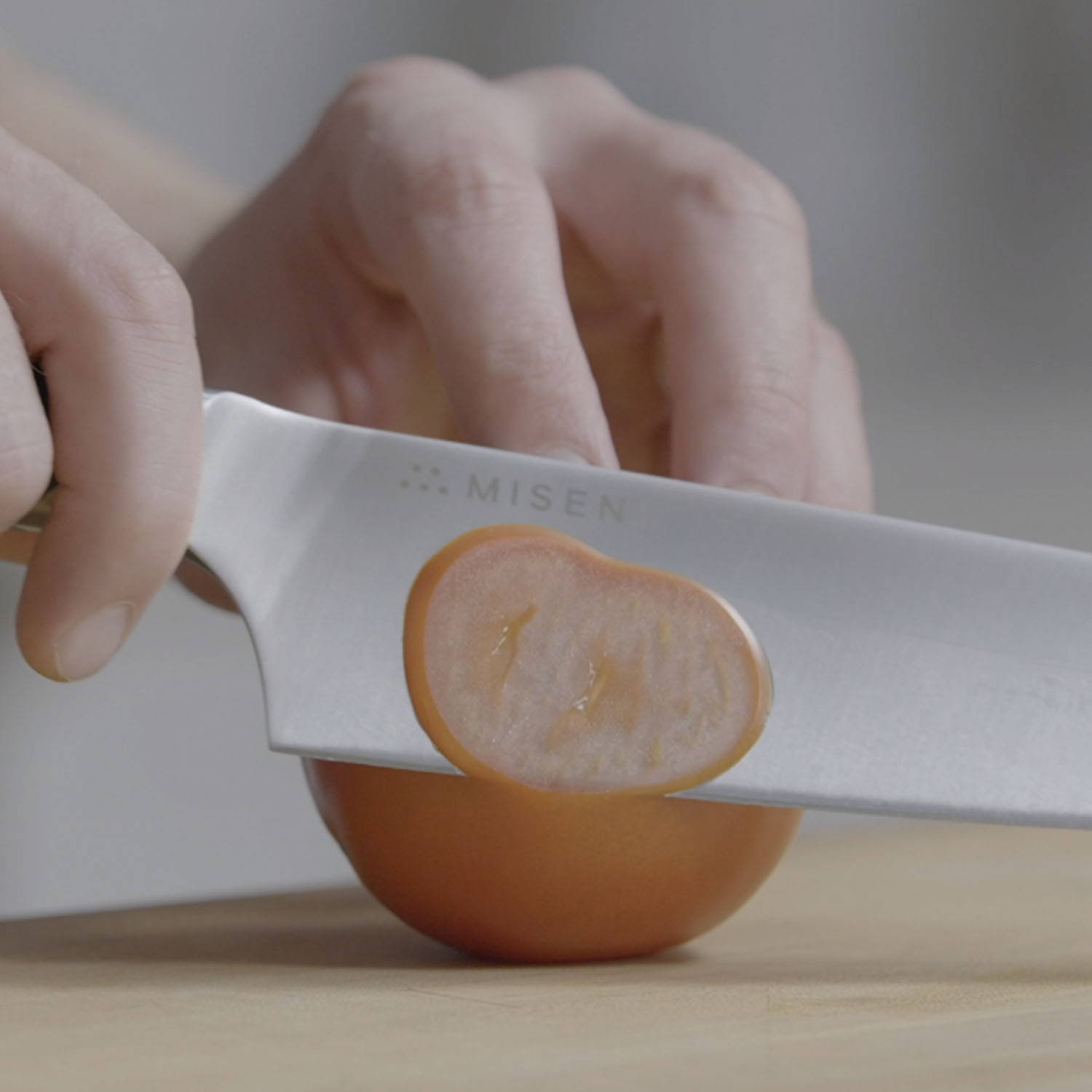 We're confident this is the best knife set you'll ever own, for a price that'll make you feel savvy as hell. But we understand you may be skeptical. So give it a try. Worry-free.
LIFETIME GUARANTEE
If anything ever happens to your knives, we'll replace them for the rest of your life.
60-DAY TEST DRIVE
Try them out. Cut everything you can. If you're not happy, just send them back.
Order Now - Limited Time Offer
While Limited Supplies Last
The first 500 to order before
Jul. 1

receive

20

% off
CODE:

FEAST
---

We sell directly to you at our wholesale pricing. We promise never to add extra markups.

If you're not happy, simply return the knives within 60 days for a full refund.

Exclusive deal. Limit 2 sets due to high demand.