The One Pan That
Does The Work of Five
The One Pan That
Does The Work of Five
The One Pan That
Does The Work of Five
At Misen, we're always looking for ways to make our cooking easier and better. Which is why most of our research and development is spent in kitchens observing the pros.
Watching chef friends, we noticed that at some point in the cooking process, whatever they were making, they would always pull out this big low pan that seemed to magically do everything.
How can one pan be perfect for so many things? Frying, braising, wilting, steaming, poaching, browning: it was the humble sauté pan, and we fell in love with it.
Coveting this workhorse, the next thing we naturally noticed was that we could go out and easily drop $300 on a high-end sauté pan. Or we could design the perfect one ourselves, make it out of premium materials, and sell it for a fraction of that. Presenting: the Misen Sauté Pan.
A Pan You'll Reach For Every Night
Some pieces of cookware can only really do one thing. That's what they were designed to do - and they do it well.
The wide-bottom sauté pan is not that. It's uniquely designed, with a big flat cooking area and 2.5" high walls, to do nearly anything you need in the kitchen, Shallow enough to sear and brown, deep enough to pan fry, and enough cubic space to braise, poach and steam.
No matter what you're cooking, chances are, you'll be want to reach for this pan every time.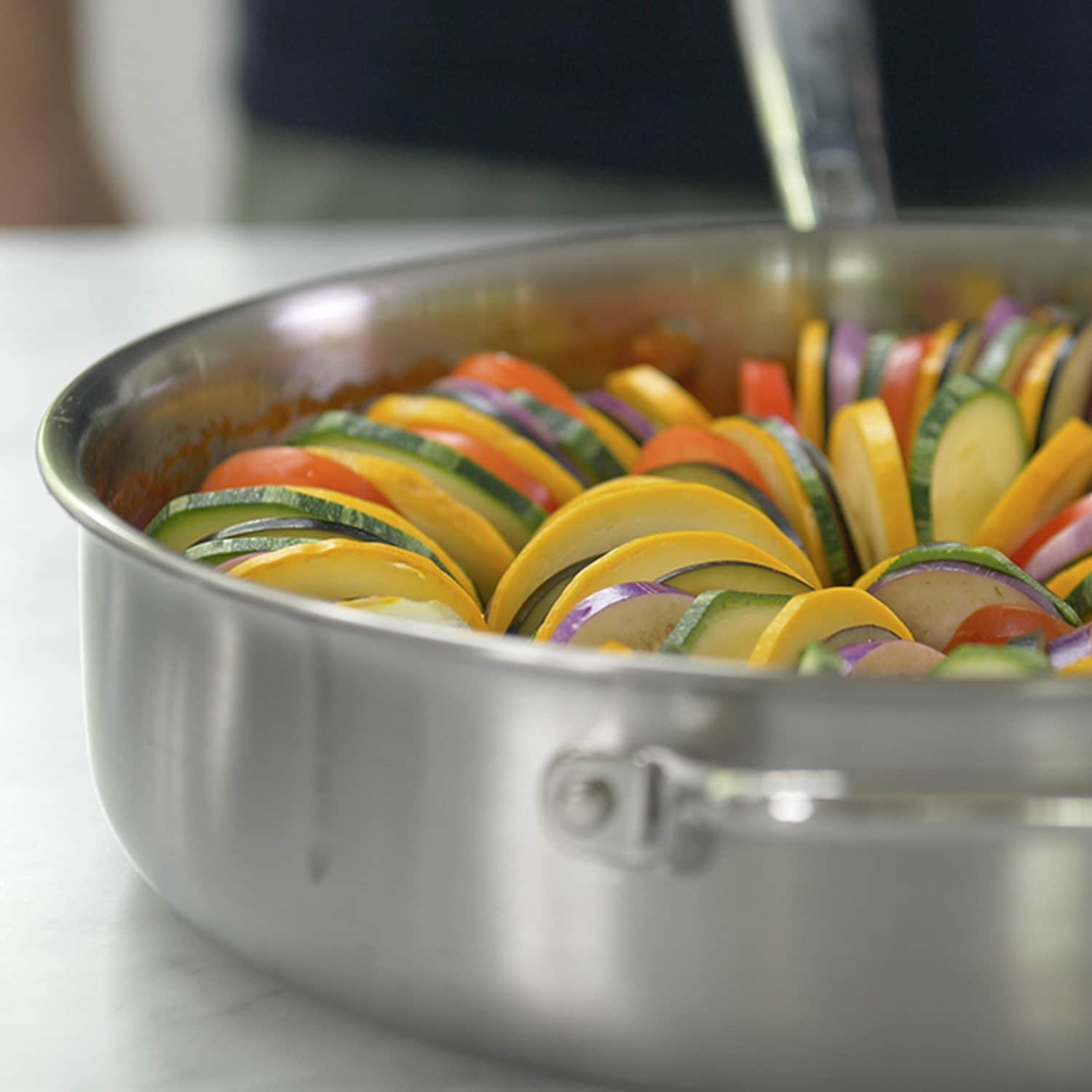 Say Hello to One-Pot Meals
Perhaps the best thing a 3QT saute pan will enable you to do is easily make all your favorite one-pot meals. Think of it as Dutch Oven, but with more uses.
It's especially good for those two- or more-step jobs, where you first use the big, generous surface area to develop savory browning over high heat, then give it time under the well-fitting lid to finish cooking – one pan, one meal, and one dish to clean. Another reason this is a kitchen must-have.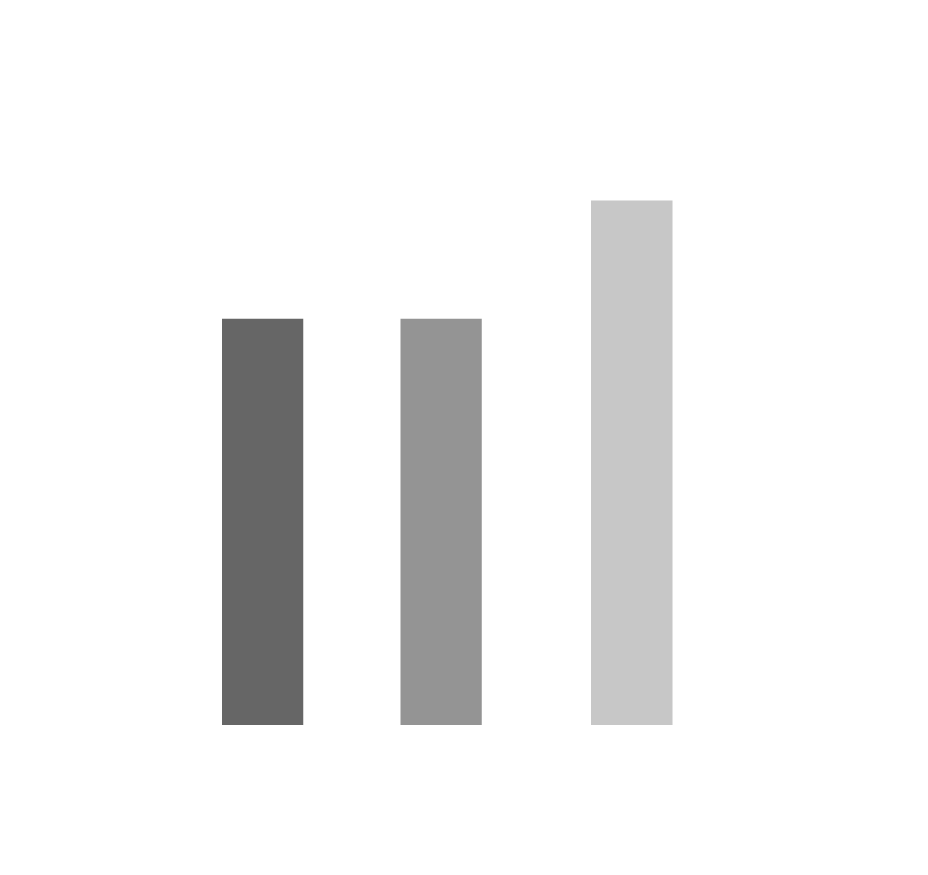 What Makes a Great Sauté Pan?
There are a few critical things any high-end sauté pan must have, including a thick base, quality steel construction for durability, and an easy to grip handle for maneuvering around the kitchen.
Misen's 5 layers of metal, alternating fast-conducting aluminum and heat-retaining 18/10 steel provide unmatched heat retention and 100% even heating across the entire surface.
And our ergonomic stay cool handle plus second helper handle make this pan easy to pick up and whirl around the kitchen.
The Perfect Blend of Materials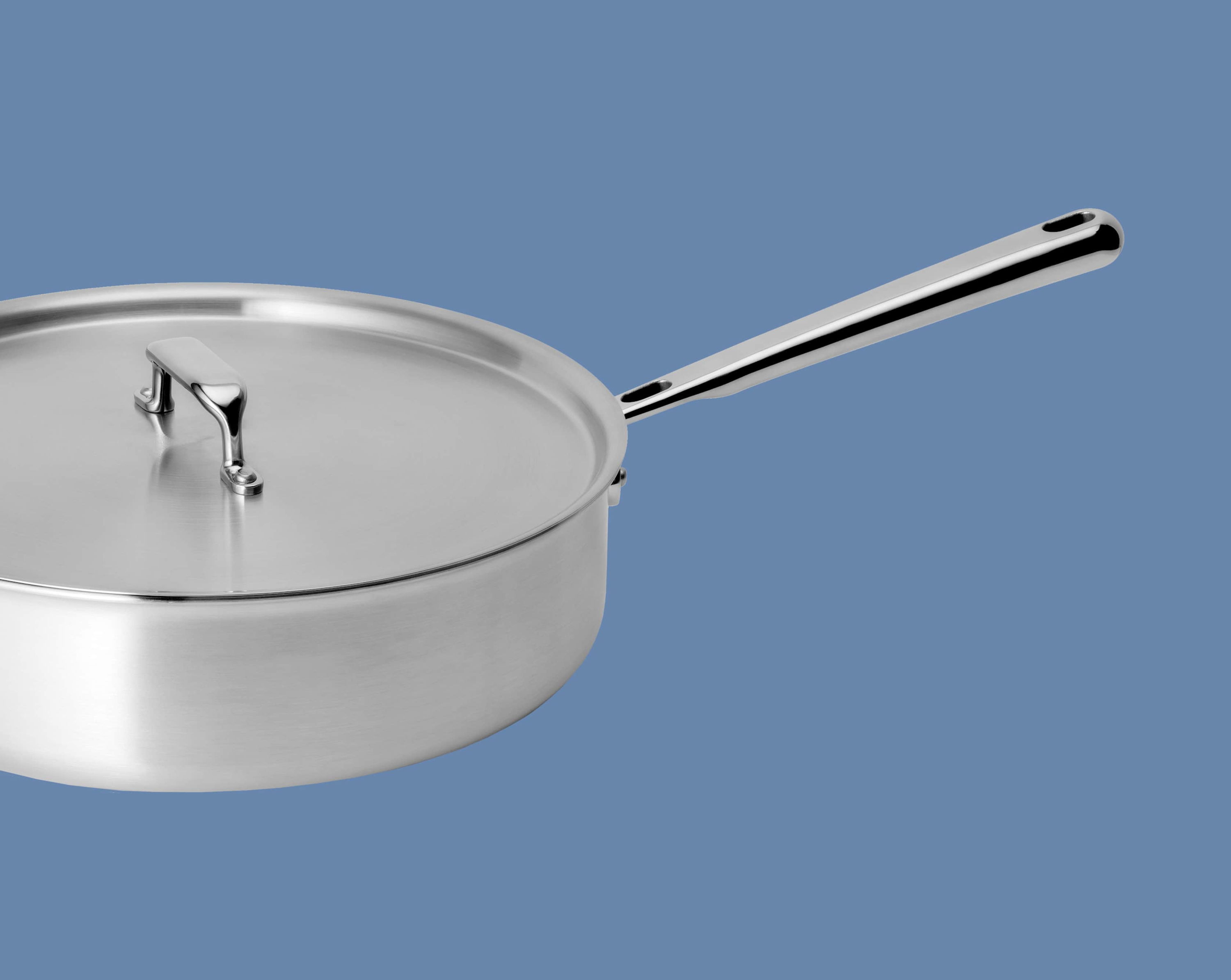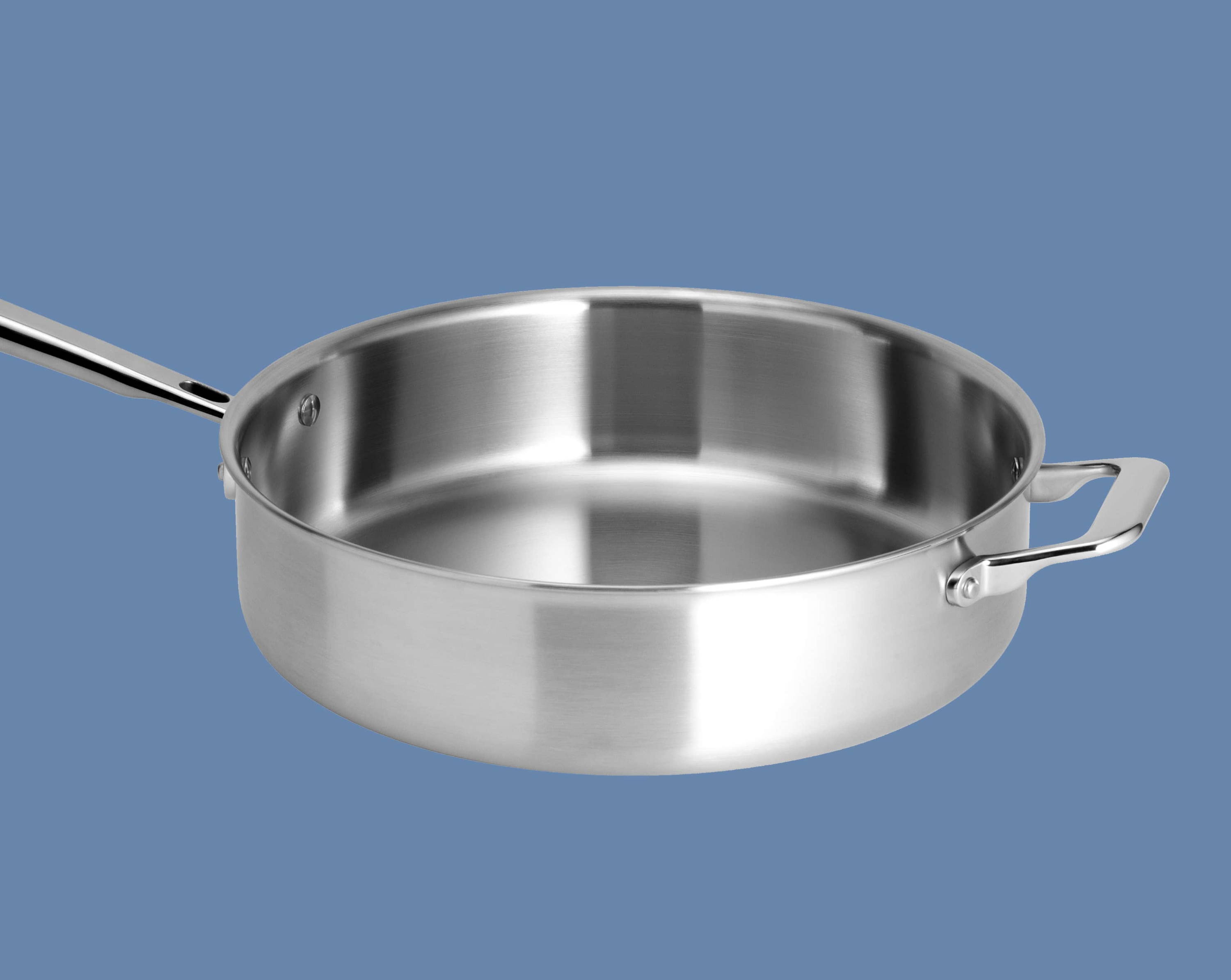 Heats quickly and evenly and will stay at the temperature you want during cooking.

Ergonomic stay cool handle and additional helper handle make this pan easy to move around.

Extra wide base and 3QT volume is perfect for large meals.

Heats quickly and evenly and will stay at the temperature you want during cooking.

Ergonomic stay cool handle and additional helper handle make this pan easy to move around.

Extra wide base and 3QT volume is perfect for large meals.
Curious to see how we compare to the
"premium" brands?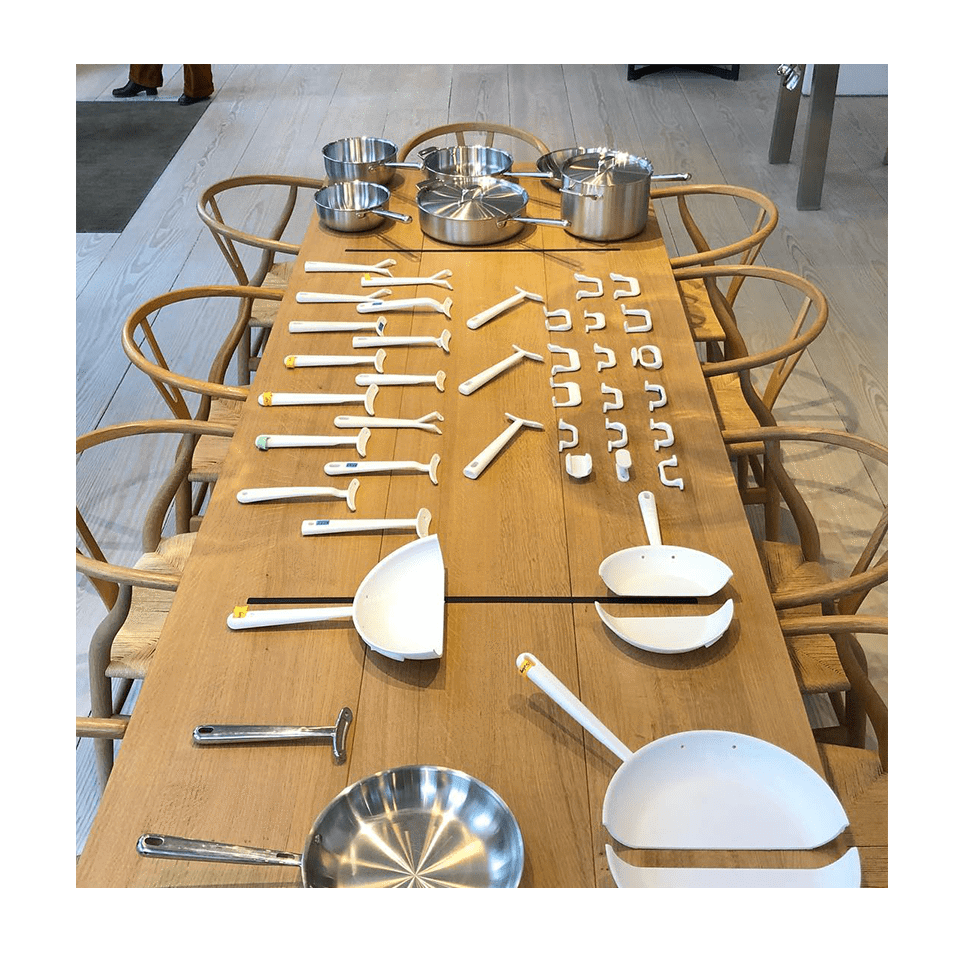 Handcrafted Down to the Smallest Detail
It took over two years to create our first pan as we obsessed over the tiniest details. We wanted our cookware to be good enough for the rigors of a professional kitchen while being easy enough to use for every skill level of home cook.
We spent countless hours talking to and observing at-home chefs. At every step along the way our cookware was stress tested by professional chefs, avid home cooks, industrial designers, and people who've never even cooked.  
We painstakingly went through countless sketches, CAD files, and over 32 3D prototypes, until we landed on a design we'd be proud to offer to you.
The result?
High-quality cookware that's as beautiful as it is durable, functional as it is sleek, and something that'll last a lifetime. Like all Misen cookware, the sauté pan has a stainless steel surface that releases food easily. And it's perfectly dishwasher-friendly, so it's easy to keep it clean and shiny.
We Could Charge A Lot, But We'd Prefer Not To.

We could easily charge $150 for a pan like some other companies based on the quality. But $95 is fair.
By partnering closely with our factories and selling directly to you online, we're able to offer incredible cookware at wholesale pricing. Better materials, lower price. It's a simple maxim that we take seriously at Misen.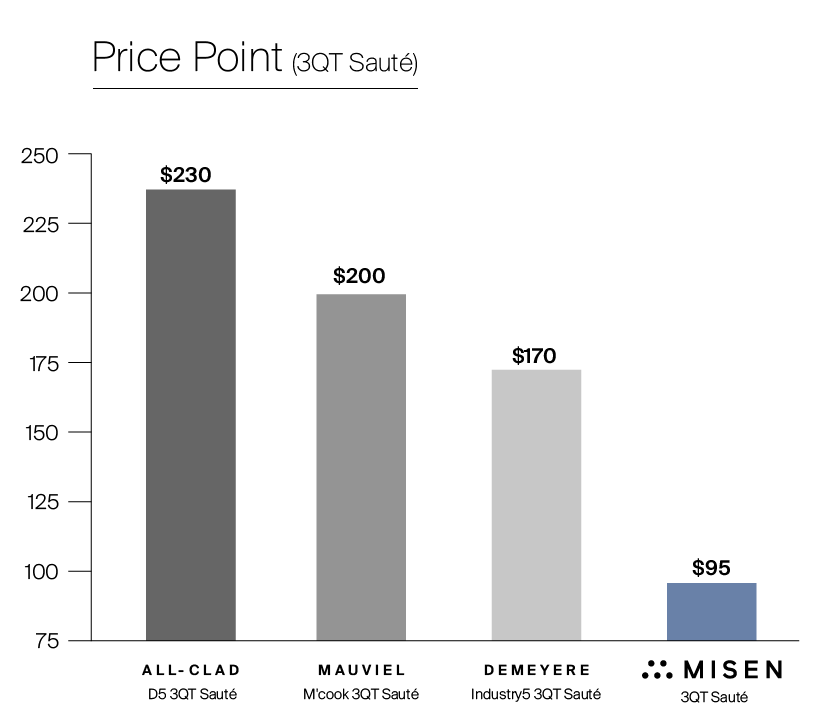 We're confident this is the best cookware you'll ever own for a price that'll make you feel savvy as hell. But we understand you may be skeptical. So give it a try. Worry-free.
LIFE TIME GUARANTEE
If anything ever happens to your cookware, we'll replace it for the rest of your life.
60-DAY TEST DRIVE
Try it out. Cook everything you can in these pans. If you're not happy, just send it back.
Order Now - Limited Time Offer
People Can't Keep Their Hands Off This Cookware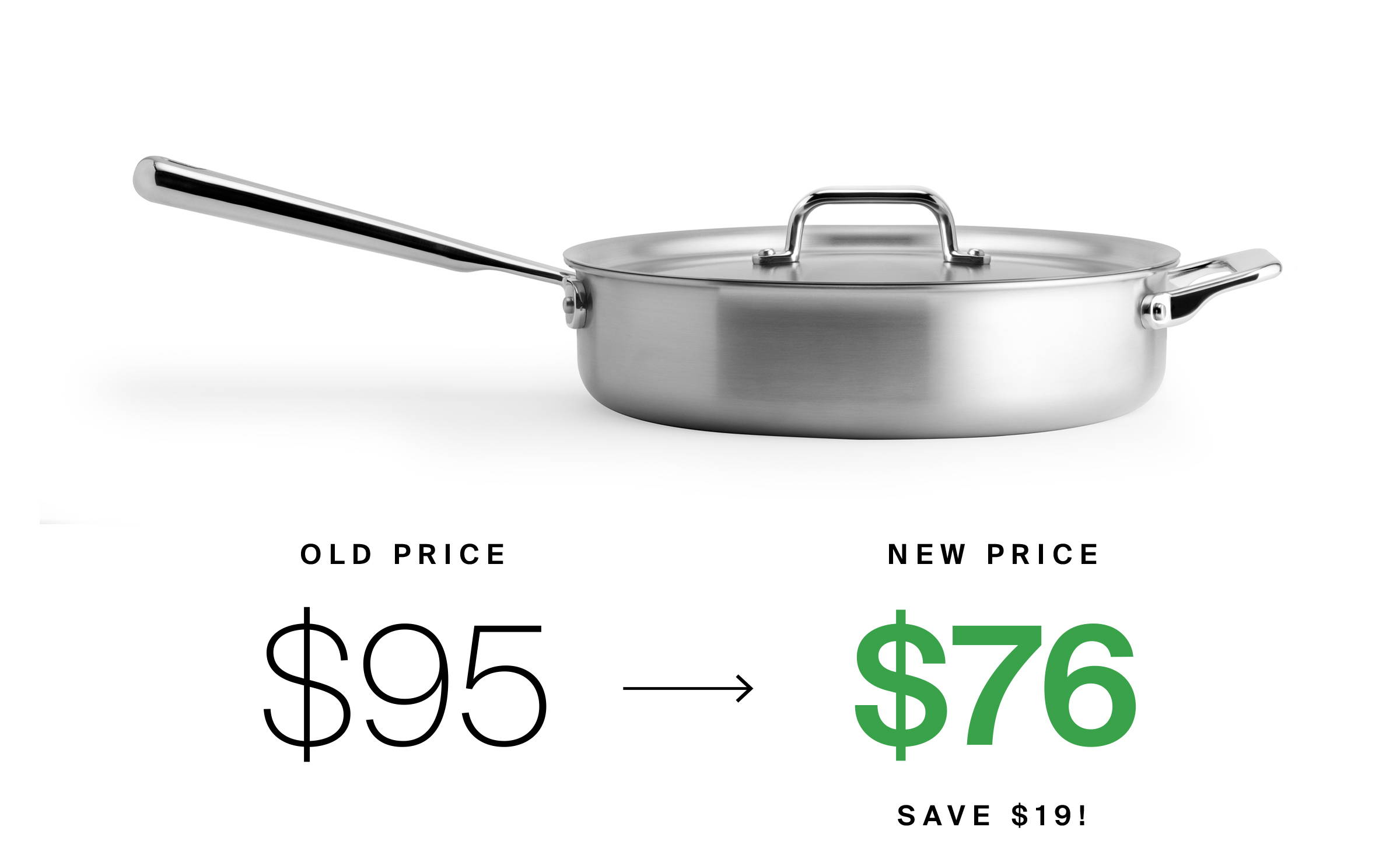 Two days only. Order before
Mar 14

and save 20%!
CODE: TRYMISEN20
---

We sell directly to you at our wholesale pricing. We promise never to add extra markups.

If you're not happy, simply return the knives within 60 days for a full refund.
Don't like your cookware? Return it no questions asked.