Amazing Steak Knives.
An Unreal Price.

Amazing Steak Knives.
An Unreal Price.

Amazing Steak Knives.
An Unreal Price.

Why are Good Steak Knives so Expensive?

While working at Fresh Direct — immersed in a culture that loved cooking and food — Misen founder Omar Rada quickly realized that high-quality kitchen tools really made a difference in his cooking.
When Omar tried to replace a pan gifted to him, he was shocked by the price tag. After some research he realized that most high-end kitchenware came with serious price markups. And in fact, good tools shouldn't be as expensive as they were.
So, Misen was born. With a passion for good cooking, we're on a mission to create premium kitchen essentials for honest prices.
Every Table Deserves Premium Cutlery

Imagine this: you've shelled out for high-quality ingredients and worked hard to prepare them into a delicious top-notch meal.
Why choose to turn your perfectly cooked food into a torn-up mess with a dull table knife that will probably break in a year? A quality steak knife will easily and evenly slice, without crushing or tearing the food you've worked hard on. What's more, it'll stand up to years of use.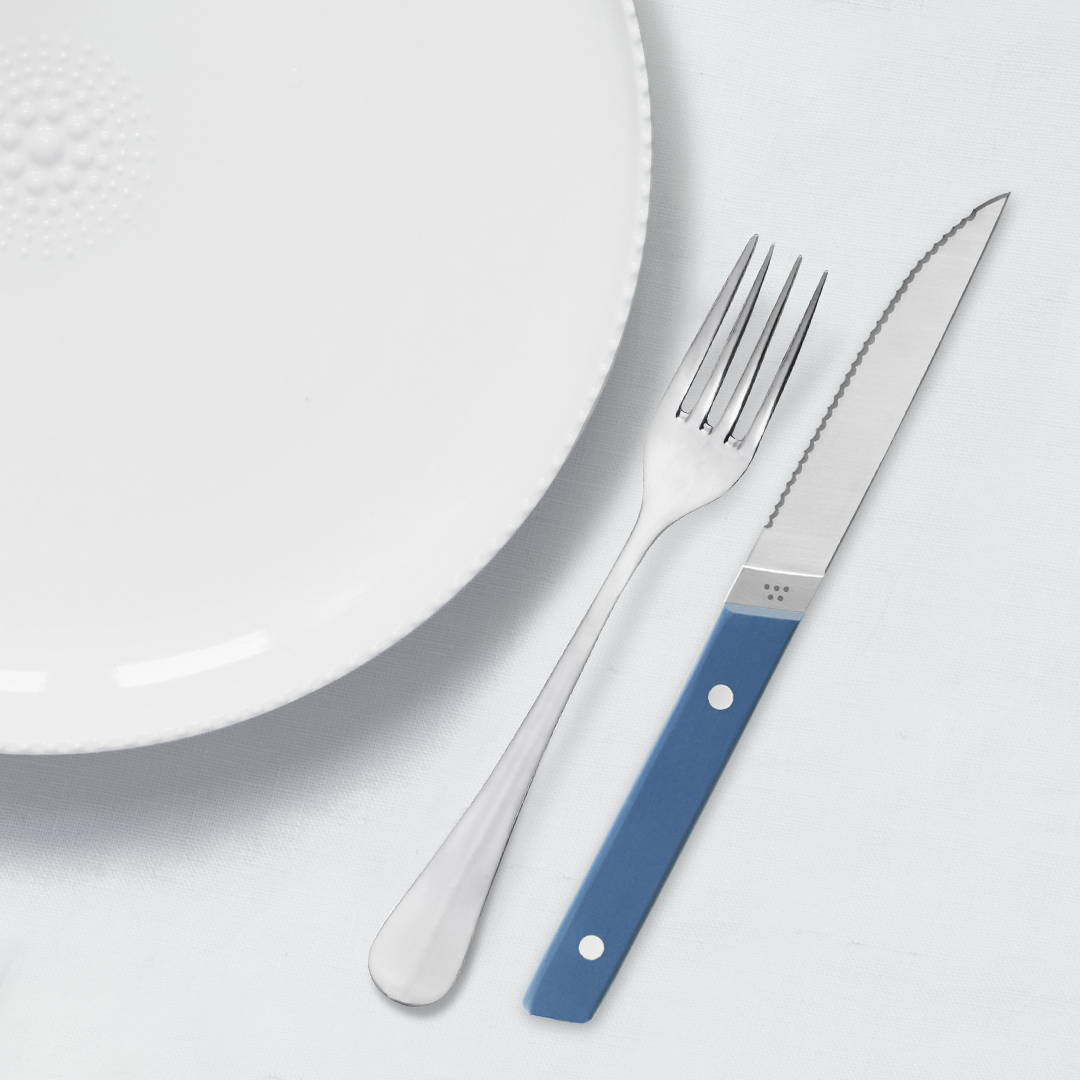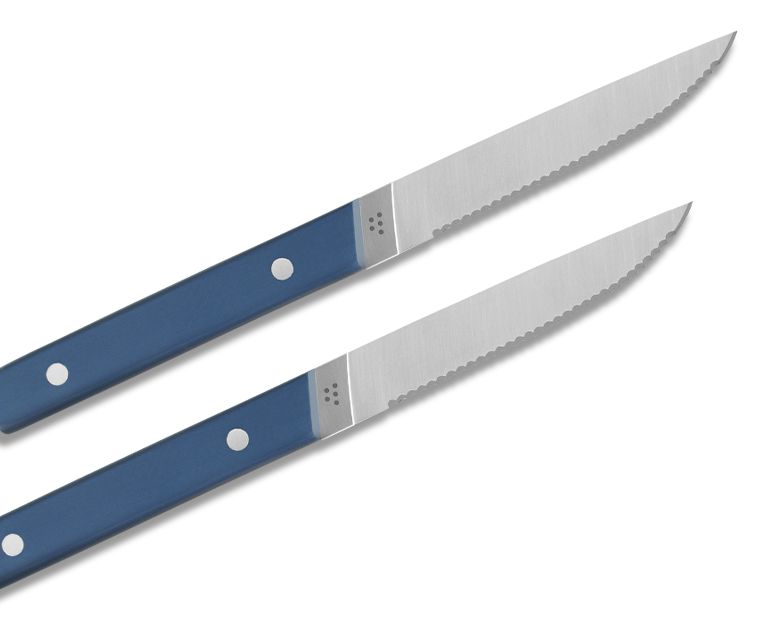 30 serrations on each knife edge provide the perfect "bite" when cutting through your food.

With high-quality steel and riveted handles, each steak knife is built to last a lifetime.

The knives' slim, angular design makes them comfortable to hold, and a striking addition to any table.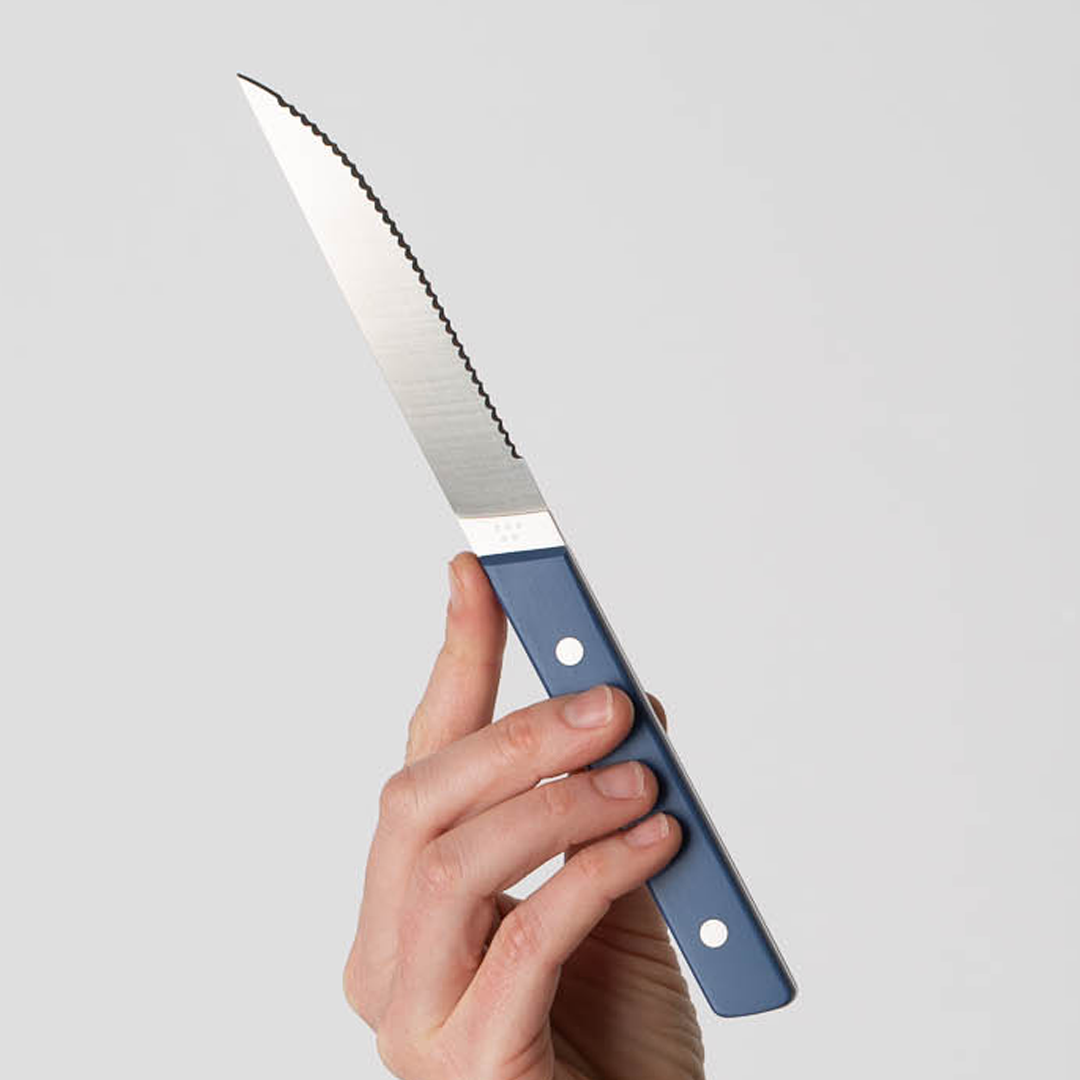 The smallest differences in depth and spacing on a serrated blade can make all the difference. Everyone who tested our steak knife prototypes — home cooks, pro chefs, and our own team of dining aficionados — agreed; 30 serrations was the perfect amount for "biting" into food without crushing or tearing.
We Could Charge a Lot, but We'd Prefer Not To

We could easily charge $700 for 4-piece steak knife sets like some other companies based on the quality and design. But $80 is fair.
By partnering closely with our factories and selling directly to you online, we're able to offer incredible tools at wholesale pricing. Better materials, lower price. It's a simple maxim that we take seriously at Misen.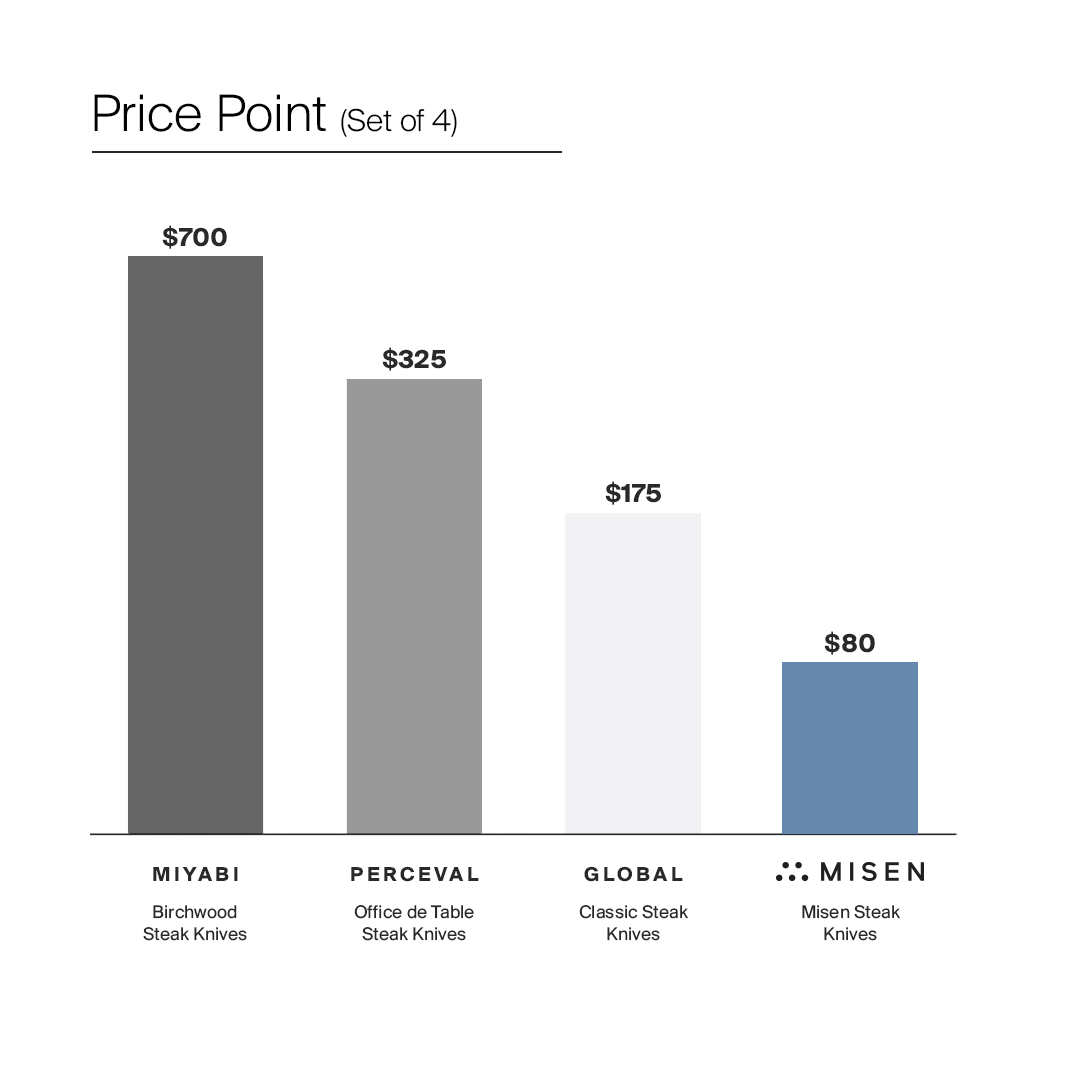 Don't Take Our Word For It

1.1 Million Dollars Raised

Serious Eats Called Misen:
"The Holy Grail of knives"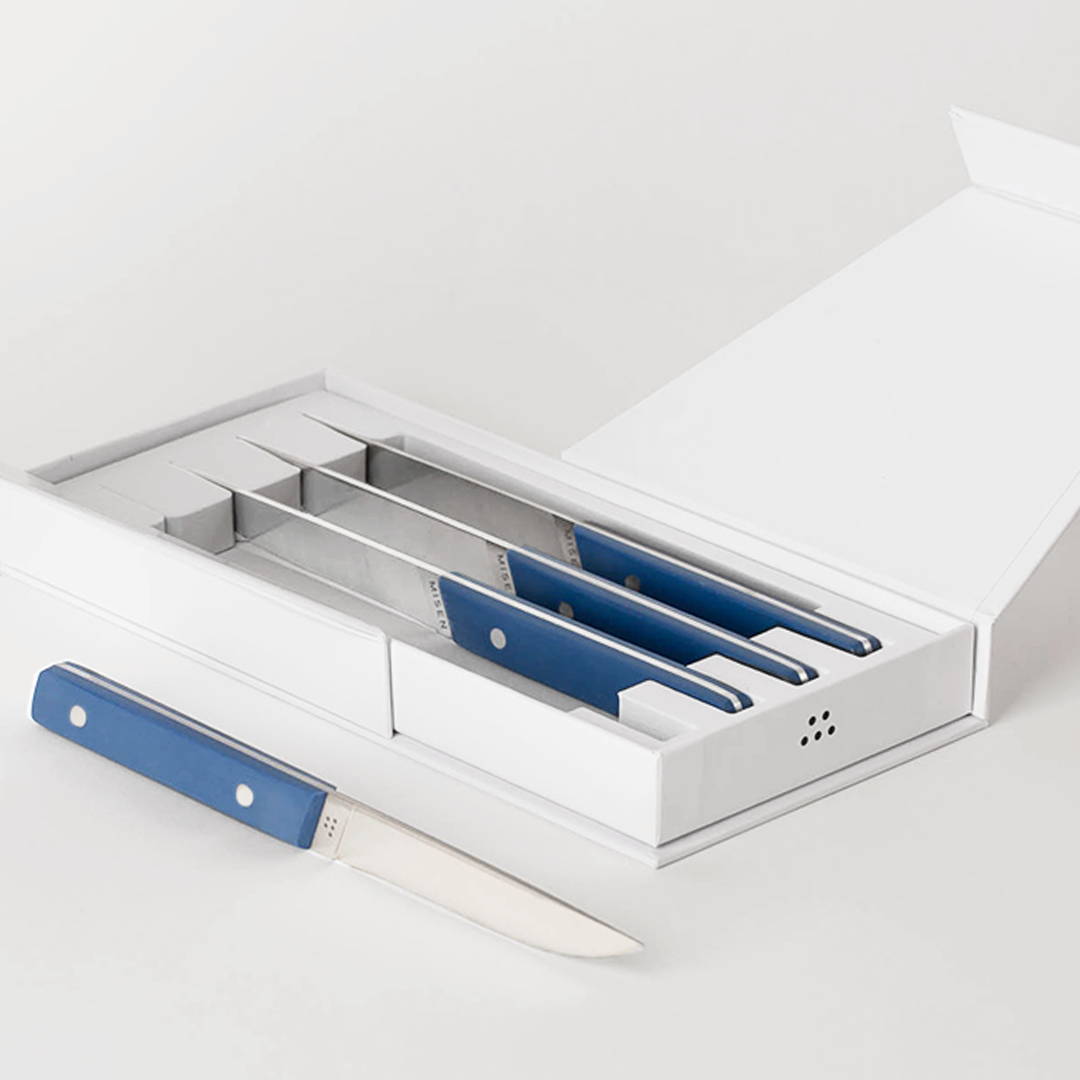 We're confident this is the best steak knife set you'll ever own for a price that'll make you feel savvy as hell. But we understand you may be skeptical. So give it a try. Worry-free.
LIFETIME GUARANTEE
If anything ever happens to your knives, we'll replace them for the rest of your life.
60-DAY TEST DRIVE
Try it out. Cut everything you can. If you're still not happy, just send them back.
Order Now - Limited Time Offer
While Limited Supplies Last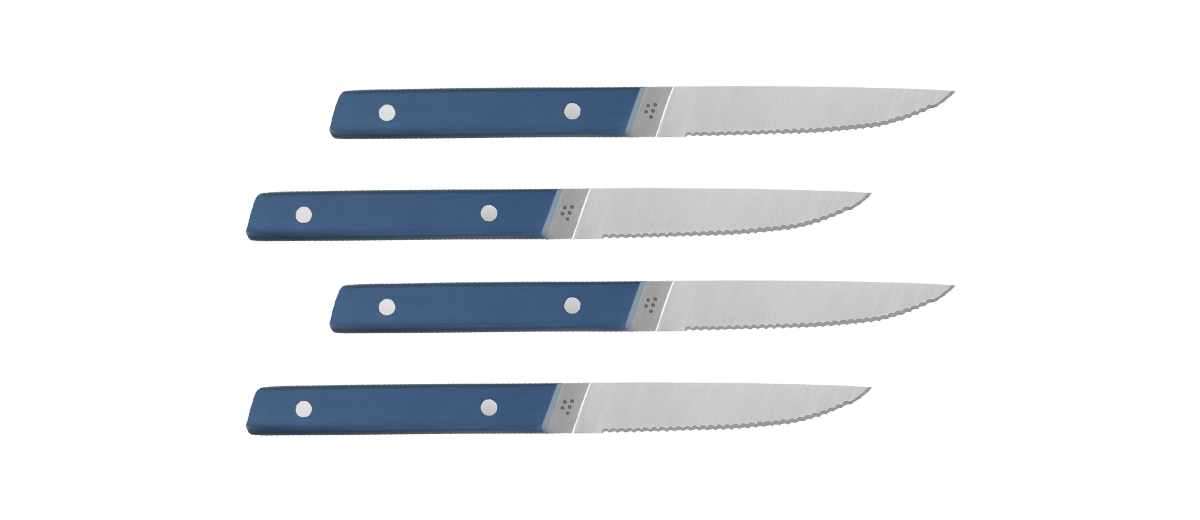 The first 500 to order before
Jul. 1

receive 20% off
CODE:

TRYMISEN20
---

We sell directly to you at our wholesale pricing. We promise never to add extra markups.

If you're not happy, simply return the knives within 60 days for a full refund.

Exclusive deal. Limit 2 sets due to high demand.